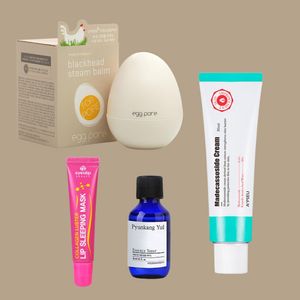 Description
How to Apply
More
Description
How to Apply
Apply the balm after you have cleansed and dried your face, focusing on the area you want to treat. Rub the balm gently on your skin and wait for three to five minutes and it will start to heat up. When it changes color from clear to opaque white, wash it off with lukewarm water.
Take an adequate amount of moisturizer and apply it to the face. Gently press into the skin for absorption
Before going to bed, apply the right amount of EYENLIP Collagen Luster Lip Sleeping Mask to the lips.
More
We usually receive the most current product versions directly from Korea. While we make every effort to update images and provide accurate and up-to-date information, please be aware that manufacturers may occasionally change ingredients without prior notice. If you are seeking a specific product version, we kindly request that you reach out to us for confirmation. Please note that we are not responsible if ingredients on the box differ from the description in the ingredients section.