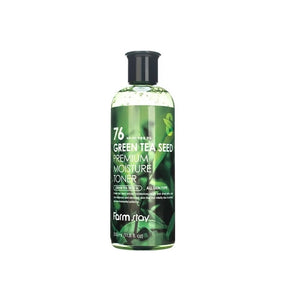 Description
How to Apply
Ingredients
More
Description
Moisture Toner is suitable for any skin type, especially recommended for dull and tired skin. The delicate texture of the product, enriched with a plant extract of green tea seeds, prepares the skin for further care and enhances the effect of other skincare products. The toner refreshes, nourishes and moisturizes the epidermis, evens out the tone and texture of the skin, removes redness, peeling and the effects of stress, and restores the skin's natural radiance. The product calms and soothes the skin, eliminates the effects of photoaging and has antioxidant properties. The toner also contains aloe vera extract, chamomile and Centella Asiatica.
Paraben-Free
Sulfate-Free
Essential Oil-free
Silicone-Free
See Also ELIKO GLOW Green Tea Trio
How to Apply
Apply after cleansing. Using cotton or hand, gently spread the product and massage for absorption.
Ingredients
Water, Glycerin, Propylene Glycol, Polysorbate 60, Allantoin, Carbomer, Sodium Hyaluronate, Chlorphenesin, Triethanolamine, Disodium EDTA, 1,2-Hexanediol, Centella Asiatica Extract, Anthemis Nobilis Flower Extract, Aloe Barbadensis Leaf Extract, Camellia Sinensis Leaf Extract, Rosa Centifolia Flower Extract, Fragrance, Camellia Sinensis Seed Extract.
More
We usually receive the most current product versions directly from Korea. While we make every effort to update images and provide accurate and up-to-date information, please be aware that manufacturers may occasionally change ingredients without prior notice. If you are seeking a specific product version, we kindly request that you reach out to us for confirmation. Please note that we are not responsible if ingredients on the box differ from the description in the ingredients section.
Great product! Have been using it for the last few years