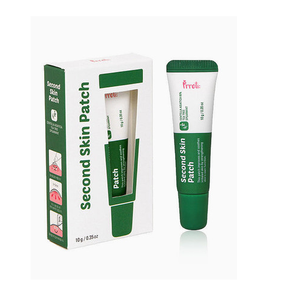 Description
About this Product: A thin, natural and breathable liquid pimple patch. It contains 65% Centella Asiatica extract, spearmint and tea tree round leaf mint extracts that soothe the skin and help reduce inflammation.
Paraben-Free
Sulfate-Free
Silicone-Free
How to Apply: Use on clean dry skin. Apply a thin layer of the patch to the troubled skin. Wait for about 3 to 5 minutes to let the patch dry. Make your skin tone even with BB-cushion if desired.
Ingredients: Centella Asiatica Extract, Alcohol Denat., Polyvinyl Alcohol, Methylpropanediol, Glycerin, PVP, Disodium EDTA, Melaleuca Alternifolia (Tea Tree) Leaf Extract, Mentha Viridis (Spearmint) Extract, Mentharotundifolia Leaf Extract, PEG-60 Hydrogenated Castor Oil, Menthol, Phenoxyethanol, Chlorphenesin, Fragrance 
More
We usually receive the most current product versions directly from Korea. While we make every effort to update images and provide accurate and up-to-date information, please be aware that manufacturers may occasionally change ingredients without prior notice. If you are seeking a specific product version, we kindly request that you reach out to us for confirmation. Please note that we are not responsible if ingredients on the box differ from the description in the ingredients section.