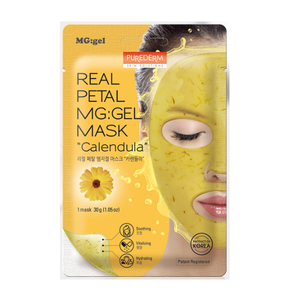 Description
Skin soothing & moisturizing recipe from real Calendula
About this Product: Purederm Real Petal MG:gel Mask "Calendula is an MG:gel mask containing real calendula petals in a patented gel. Calendula petals soothe tired skin. Honey Extract and Hyaluronic Acid supply nutrients and moisture to the skin, promoting moist and healthy skin. It contains a special essence containing real Calendula Extract. It is a special home care mask that can be used for skincare and mood conversion by adding natural scent and energy.
MG:gel? Made of natural ingredients, MG:gel is a clear, moisturizing mask gel created with a new patented technique, and Is an advanced concept super-stick gel with a superb affinity for the skin. [Patent No. 1016886450000]
How to Use:
Gently cleanse and tone the skin.
Take out the mask from the sachet and place it on the face with the gel side contacting the skin. Gently peel away the release fabric by the wings on the bottom of the MG:gel Mask.
Apply the gel mask evenly to the skin by smoothing out any air bubbles with fingers.
Leave the gel mask about 20 to 25 minutes then remove it. Gently massage remaining essence into the skin.
Usage Tips:
Storing MG:gel in a refrigerator will provide a more moisturizing feeling during use. Applying base makeup directly after using the MG: gel Mask will give the skin a dewy look.
The release fabric helps to ease the process of unfolding the MG:gel Mask and placing it on the face.
Make sure to place the mask on the face with the MG:gel side down and to properly dispose of the release fabric after removal.
Ingredients: Water(Aqua), Methylpropanediol, Glycerin, Sodium Hyaluronate, Chondrus Crispus Extract, Calendula Officinalis HOwer, Ceratonia Siliqua (Carob) Gum, Potassium Chloride, Glucomannan, Dipotassium Phosphate, Sodium Citrate, Calcium Lactate, Glucose, Calendula Officinalis Flower Extract, Citrus Umon (Lemon) Fruit Extract, Acer Saccharum (Sugar Maple) Extract, Vaccinium Myrtllus Fruit/Leaf Extract, Saccharum Officinarum (Sugarcane) Extract, Citrus Aurandum Duicis (Orange) Fruit Extract, Honey Extract, Čentella Asiatica Extract, Aahanothece Sacrum Polysaccharide, Allantoin, Dipotassium Glycyrrhizate, Panthenol, Xanthan Gum, Carbomer, PEG-60 Hydrogenated Castor Ol, Tromethamine, Glyceryl Polyacrylate, Glyceryl Acrylate Acrylic Acid Copolymer, PVM/MA Copolymer, Propylene Glycol, 1,2-Hexanediol, Disodium EDTA, Hydroxyacetophenone, Iron Oxides (CI 77492), Fragrance(Parfum), inalool, Benzyl Benzoate, Eugenol
More
We usually receive the most current product versions directly from Korea. While we make every effort to update images and provide accurate and up-to-date information, please be aware that manufacturers may occasionally change ingredients without prior notice. If you are seeking a specific product version, we kindly request that you reach out to us for confirmation. Please note that we are not responsible if ingredients on the box differ from the description in the ingredients section.