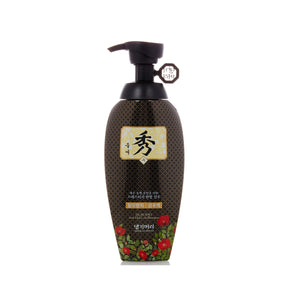 Description
How to Apply
More
Description
A natural and advanced solution for hair loss. Packed with traditional herbal extracts like ginseng and ginger, it revitalizes the scalp, strengthens hair follicles, and promotes healthy growth. The gentle cleansing removes impurities, while it's targeted formula combats hair thinning. Users have reported reduced hair fall and improved thickness. Experience the power of nature and technology for fuller, healthier hair.
How to Apply
Wet hair thoroughly, gently lather and massage hair and scalp for 30 seconds. Leave on hair for 30 seconds and rinse out.
More
We usually receive the most current product versions directly from Korea. While we make every effort to update images and provide accurate and up-to-date information, please be aware that manufacturers may occasionally change ingredients without prior notice. If you are seeking a specific product version, we kindly request that you reach out to us for confirmation. Please note that we are not responsible if ingredients on the box differ from the description in the ingredients section.