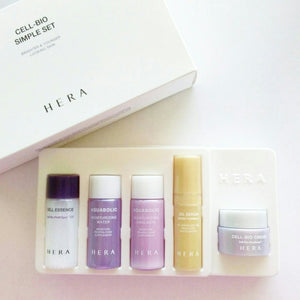 Description
Set Includes:

HERA Aquabolic Moisturizing Water - 15ml
HERA Cell Essence - 15ml
HERA Aquabolic Moisturizing Emulsion - 15ml
HERA Modifier - 5ml
HERA Cell Bio Cream - 5ml
HERA Aquabolic Moisturizing Water 
Enriched wrinkle repair toner that fills uneven skin, and creates smooth and radiant skin. Elastin emulsion ingredient delivers resilience on skin texture.  Boosting agent ingredient leaves moisture and brightens your face.  Non-sticky. Leaves smooth finish, and boosts absorption and effect of next skincare. 
How to use: After your serum, apply a moderate amount over face, and spread gently as massaging for absorption.
HERA Aquabolic Moisturizing Emulsion 
Wrinkle repair lotion that fills moisture and nutrition deep inside the skin, and creates healthy skin.  Natural olive ingredient fills skin texture evenly and smoothly.  Meadowfoam seed oil creates healthy and radiant skin.  Spreads smoothly, and improves the condition of the skin.  Gives instant and visible resilience on skin. 
How to use: After your water, apply a moderate amount from inside to the outside of the face, and spread evenly.
HERA Cell Essence
Cell-Bio Fluid Sync™ delivers what your skin needs when it is tired by ageing and stress. It is formulated to match the physiological fluid in your body, and a milky solution that contains the nutrients your skin needs. It penetrates comfortably and quickly upon application to instantly leave your skin transparent and full of life.
How to use:
1. Dampen a cotton pad with the essence.
2. Apply to your face beginning from the center of your face and outward.
3. Pat gently.
4. For the nose area, rub lightly with the cotton pads.
5. Using the other side of the cotton pad, wipe your neck.

HERA Cell-Bio Cream 
CELL-BIO OmnifocusTM solves different kinds of skin problems and gives a firm and a brighter younger-looking skin. Rich nutrition texture for beautiful skin.
How to use:  At the step of cream, apply onto face, wrap with both hands and tap gently.
More
We usually receive the most current product versions directly from Korea. While we make every effort to update images and provide accurate and up-to-date information, please be aware that manufacturers may occasionally change ingredients without prior notice. If you are seeking a specific product version, we kindly request that you reach out to us for confirmation. Please note that we are not responsible if ingredients on the box differ from the description in the ingredients section.