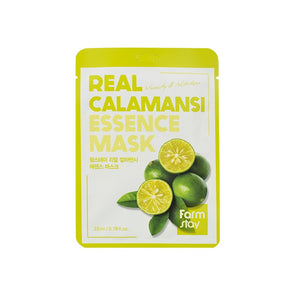 Description
How to Apply
Ingredients
Description
A vitalizing sheet mask that contains calamondin orange fruit extract effectively lightens and brightens the skin. Real Calamansi Essence Mask improves wrinkles and skin elasticity. It also improves the skin tone and reduces the occurrence of acne. Redness, freckles and melanin pigments are noticeably reduced.
Paraben-Free

Sulfate-Free

Silicone-Free

How to Apply
Thoroughly cleanse & dry face.
Take out and unfold the mask and apply it to your face.
Wear the mask for 15-20 minutes and peel it off slowly from the edges
Ingredients
Purified Water, Glycerin, *Calamondine Orange Fruit Extract (1,000ppm), Methyl Propane Diol, Lavender Flower Extract, Borage Extract, Cornflower Flower Extract, Matricaria Flower Extract, Butylene Glycol, Carbomer, Triethanolamine, Polysorbate 20, Ethylhexylglycerin, Disodium Id, Phenoxyethanol, Fragrance.
Essential for Acne
I am using and recommended this to my client who has acne problem. After 3 times session with basic facial with acne extraction followed by Calamansi Mask. It has visible effect, it heald the acne,calmed down the skin irritation it brighten the skin. And in between the facial she uses it at home. Highly recommended.