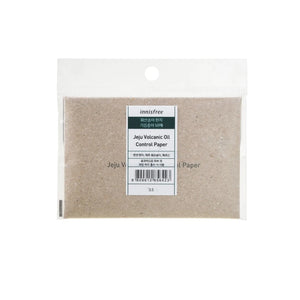 Description
How to Apply
Ingredients
More
Description
An eco-friendly oil-absorbing blotting paper made of hanji, the traditional Korean paper made from mulberry trees that effectively soaks up excess sebum, for petal-fresh skin anytime, anywhere. It visibly mattifies and reduces shine without disturbing makeup.
How to Apply
Open the flap and remove the paper carefully.
Gently press the paper against your skin to absorb excess oil around the nose, chin, forehead, and mouth.
Use as needed throughout the day.
Discard after use.
Ingredients
Natural Korean Traditional Paper/Jeju Volcanic Clay / Alginic Acid
More
We usually receive the most current product versions directly from Korea. While we make every effort to update images and provide accurate and up-to-date information, please be aware that manufacturers may occasionally change ingredients without prior notice. If you are seeking a specific product version, we kindly request that you reach out to us for confirmation. Please note that we are not responsible if ingredients on the box differ from the description in the ingredients section.